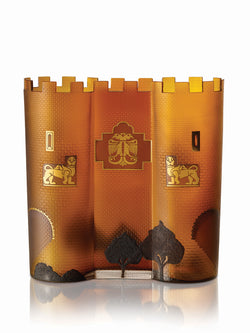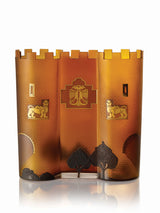 Limited Edition
Diameter: 11.8 in , H:11.8 in
Wipe clean with dry cloth
Handmade
Made in Turkey
In addition to being an important defense structure dating back to 3000 BC, Diyarbakır Fortress is a cultural asset with great universal value that demonstrates civilizations in Anatolia with inscriptions in Hellenic, Latin, Syriac, Armenian and Arab languages. The Hevsel Gardens, associated to the fortress for thousands of years, is an important landscape that supplies the city daily food since the Assyrians.
The city walls demonstrate the traces of civilizations dominating the city with carvings, reliefs and motifs, as well as surrounding inscriptions.

On the vase, there are reliefs reflecting double-headed eagle and winged lion on the Yedi Kardeş Tower, one of the most important towers of Diyarbakır Fortress, built by Malik Salih Memduh of Artuqids in 1208.Diyarbakır Fortress and Hevsel Gardens Cultural Landscape, which was included in UNESCO's Tentative List of World Heritage in 2013, was inscribed as a World Heritage in 2015.
Diyarbakır Kalesi Vase is made of handmade cream opal glass and all the relief patterns on the product are decorated with gilt.