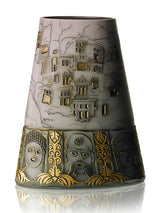 Limited Edition
Diameter: 11.1 in , H:13.9 in
Wipe clean with dry cloth
Handmade 
Made in Turkey
Myra is an ancient Lycian city located in Kale (Demre) district of Antalya.
Myra had become an important Lycian city as its fame continued throughout the Medieval thanks to St. Nicholas, known as Santa Claus, a son of a wealthy family and a bishop who devoted himself to do favors especially for children. The city, which means "the place of the Great Mother Goddess", was first established on the hill above the present rock-cut tombs. There are reliefs giving information about their qualifications and burial customs on Myra's rock-cut tombs.

The vase is decorated with rock-cut tombs in Myra (Demre) and masks at the entrance of the ancient city. Ancient Cities of Lycian Civilizations was included in the Tentative List of World Heritage by UNESCO in 2009.

Myra Antik (Ancient) Vase is made of handmade opal mink glass. All designs on the vase are handcrafted using gold and painted with aging technique.