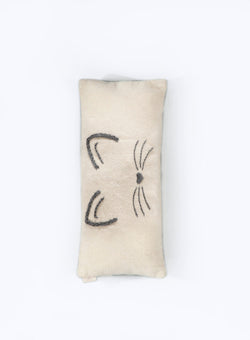 MUNA Gattina - Kids Pillow / Cushion
Ready to ship within 5-7 days
Bamboo&Wool Handwoven Pillow with cat embroidery.

Bring a little WOW to your children's spaces with our stunning cushions. Fabulous handmade gender neutral throw pillows for a tranquil yet timeless space.
Ethically fashioned from bamboo and wool, the pillows have a playful embroidery which brings you in love with the clean lines. It is impossible to have too many of them! Our cushions are ideal for babies, toddler and young ones.

-Front & Back: 100% Hand Woven, Natural Bamboo and Wool
- Front: Hand Embroidered
- Side Zipper
- 12x24 inch
- 30x60 cm

Care & Tips :
We suggest hand washing. Use lukewarm water (max. 30°C) and use just a teaspoon of mild detergent. Gently squeeze out excess water; carefully pull the cushion back into shape, then hang to dry away from direct heat.

Cushion Insert:
Insert is NOT included.

Both the cushion cover and the design are made by hand and will have slight variations and imperfections. Thank you for supporting and buying HANDMADE!!!
pillow cover | decorative lumbar pillow | cushion cover | kids pillow | kids cushion