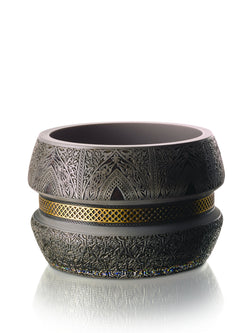 Limited Edition 
Diameter:4.7 in , H: 7 in 
Wipe clean with dry cloth
Handmade
Made in Turkey
The settlement of Ahlat, dating back to 900 BC, reflects the Seljuk period's stone craftsman, religious belief and life style definitively. There are 14 mausoleums, most of them date back to 13th century, 2 castles, 5 historical cemeteries from the Seljuk period, 1 historical cemetery from the Ottoman period, 4 separate cemeteries dating from 2000 to 1200 BC, 2 mosques and 1 Turkish bath from the Ottoman period in the Ahlat district, 60 km to the city center, located on the shores of the Lake Van. In the historical Seljuk cemetery built on an area of approximately 200 acres, there are also room-styled underground tombs with or without tombstones in the form of Central Asian Turkish tombs, each of which has a monumental structure.
These tombs are made from the stones from Ahlat, which are frequently used in the region. There are tombs of distinguished people of that period in the mausoleums that were built with stone, a sign that working with stone was widely accepted in the district.
The designs on Ahlat Bowl are inspired from the stones and motifs unique to Ahlat area.
Ahlat and Tombstones were included in UNESCO's Tentative List of World Heritage in 2000. Ahlat Bowl is made of handmade opal mink glass and all the relief patterns on the product are decorated with gilt and painted with aging technique.