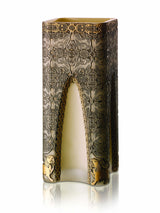 Limited Edition
Diameter: 4.7 in , H:11 in
Wipe clean with dry cloth
Handmade
Made in Turkey
After Topkapi Palace, Ishak Pasha Palace, which is located near Mount Ararat, 5 km away from Dogu Beyazıt, is one of the most distinguished and famous works of Ottoman architecture. It is a complex rather than a palace and is the last great monument of the Ottoman Empire in the Tulip Era. It was commissioned by İshak Pasha II and Çolak Abdi Pasha in 1685, and completed in 1784.
Ishak Pasha Palace, which has been built in about 100 years, is considered to be an invaluable work in terms of art history. Being a mixture of Ottoman, Seljukian and Persian architectural tradition, the most important feature of the Ishak Pasha Palace is that it has world's first central heating system.

The relief designs on the Ishak Pasha Vase are created by stylizing the patterns bearing marks of many cultures from Iran to the Anatolian Seljuk State, Georgia to the Caucasus. The lion motif, which stands out of the right and left of the large gate, is decorated on the vase.
Ishak  Pasha Palace was included in the Tentative List of World Heritage by UNESCO in 2000.
Ishak Pasha Vase is made of handmade cream opal glass and all the relief patterns on the product are decorated with gilt and painted with aging technique.