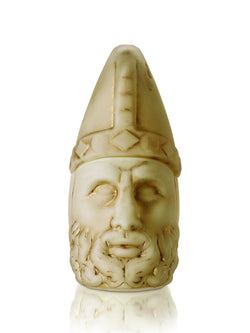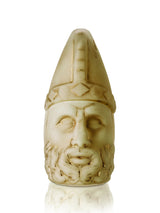 Limited Edition
Diameter:6 in , H:7.87 in
Wipe clean with dry cloth
Handmade
Made in Turkey
Mount Nemrud, one of the 8 wonders of the world, is a 2,150-meter-high mountain in Southeastern Turkey, near Ankar Mountains of Kahta District in Adıyaman Province.
Antiochus Theos, the king of Kommagene, a powerful kingdom that had a wide range of cultures integrating faith, culture and traditions of Greek and Persian civilizations, built statues of many Greek and Persian gods along with his own tomb on the mountain in 62 BC. The tomb and colossal statues of gods and kings which are 8-10 meters high that remain from ancient times far from Egypt.

The statues start with a lion and an eagle statue, and end at the same sequence. The lion, the king of the jungle, represents the power on the earth while the eagle, the messenger of the gods, symbolizes the celestial power. The range of the statues on both sides is as follows: King Antiochos I (Theos); Fortuna (Theichye-Kommagene-Goddess); Zeus (Oromasdes); Apollo (Mithras-Helios-Hermes), Herakles (Ares-Artagnes).

Mount Nemrud was inscribed as a World Heritage in 1987 by UNESCO.
Nemrut Fortuna Box is made of handmade cream opal glass and aging method is applied using gold paint.