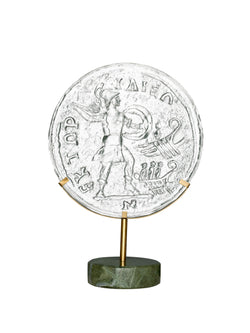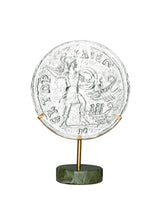 Limited Edition
Diameter: 8.6 in , H:12.5 in
Wipe clean with dry cloth
Handmade
Made in Turkey
The ancient city of Troy (Çanakkale) was inscribed as a World Heritage in 1998 by UNESCO.
Troy or "Truva", the town that became the grounds of world-renown Trojan War of Iliad written in the Bronze Age. Trojan War is the great war in the Greek mythology that erupted between Troy and Greece as a result of the Greeks (Achaeans) attacking the Anadolian town of Troy after Trojan Prince Paris kidnapped Helen, wife of the Spartan King, Menelaos.

Troya Sikke Glass Object is designed with figures inspired from 2 bronze coins printed during the Roman Empire era of Troy and had Trojan War patterns on them. One side of the glass coin is embroidered with the scene that Trojan Hero Hector threw a torch towards enemy (Achaean) ships and the other side is printed with a picture of Hector on his horse cart. 
Troya Sikke Glass Object is produced from handmade glass and shaped with 'pate de verre' technique. Teos green marble is used for its base.