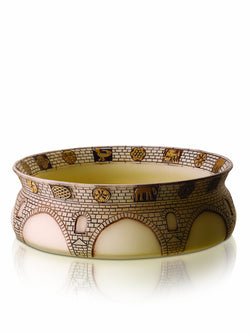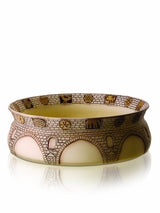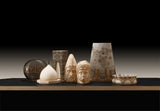 Limited Edition
Diameter:8.6 in , H:2.5 in
Wipe clean with dry cloth
Handmade
Made in Turkey
The Bridge of Uzunköprü constructed by the Architect Muslihiddin between 1427 and 1443 during the reign of the sixth Ottoman Padishah Sultan Murad II, on Ergene River in Uzunköprü District, Edirne. The bridge is featured to be the longest extant stone bridge on earth with 1270,41 m length and 174 arches.

Having been constructed of limestone and cut stone blocks of travertine type, the arches of the bridge are mostly double-centred and in pointed form. There also exist circular and flattened circular arches. This elegant bridge bears the motif of art and aesthetics of Ottomans which harmonizes different cultures from Central Asia to the Balkans.

Despite the length of the bridge, this monumental structure survived a period of nearly six centuries under the harsh natural conditions due to the engineering knowledge of materials used, the placement of the base and calculation of the arch width.

The bowl is decorated with ornaments observed on the arches and on the keystone, such as geometric motifs, plant and animal figures and rumi palmette motifs.

Uzunköprü was included in the Tentative List of World Heritage by UNESCO in 2015.

Uzunköprü Bowl is made from handmade cream opal glass. All designs on the bowl are handcrafted using gold and painted with aging technique.