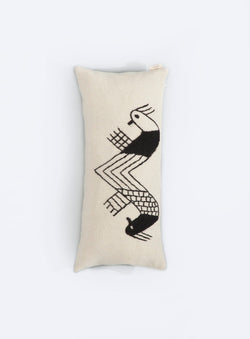 Ready to ship within 5-7 days
Artisanal Embroidery Beauty
All our eco-modern cushions & pillows are hand-made in Turkey and are turned to a work of art thanks to our talented and detail oriented women which definitely turns the case of quality over quantity.
Our inspiration fo the embroidered pattern is the rich Anatolian and Sardinian cultur. These ethnic and chic pillows are some eye-candies to elevate your house to a home. 
- Front & Back: 100% Natural Wool mixed with 100%natural Bamboo
- Front with hand embroidery
- 12x24 inch
- 30x60 cm
-pillow cover | decorative lumbar pillow | cushion cover

Care & Tips :
We suggest hand washing. Use lukewarm water (max. 30°C) and use just a teaspoon of mild detergent. Gently squeeze out excess water; carefully pull the cushion back into shape, then hang to dry away from direct heat.

Cushion Insert:
Insert is NOT included.

Both the cushion cover and the design are made by hand and will have slight variations and imperfections. Thank you for supporting and buying HANDMADE!!!