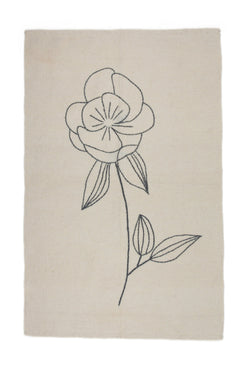 Ready to ship within 5-7 days
Size: (2'6"x4'2") 80x130 cm
For any other size please get in touch with us via email.
If you consider going colorless, simple embroidery additions of Linear Botany kilim rugs might be a good choice for your living spaces in minimalist but creative ways.The "Linear Botany" kilim rugs punctuates the area with a neutral flowers | plants.
Care instructions: Remove stain immediately by pressing a clean cloth. Vacuum without brush to remove dust. Can be machine washed but only with a mild wool detergent and with gently cycle (with a max.spin speed 400 rpm).
Thank you for supporting and buying HANDMADE by Muna Home!!!
- Handmade
- Hand-Woven
- Hand-Embroidered
- Organic Natural Sheep Wool
- Modern Rug
- Minimalistic Embroidered Kilim Rug
- Natural carpets
- Flat-woven Kilim Rug